Vánoční balíček : 20 individuálních lekcí + konverzační kurz zdarma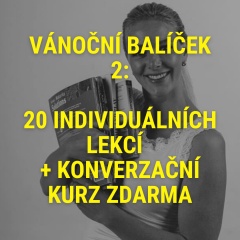 Vánoční balíček : 20 individuálních lekcí + konverzační kurz zdarma 31.12.2023 19:00:00
Presenter: -
Popis setkání: Balíčkem "20 individuálních lekcí + konverzační kurz zdarma" získáváte 20 soukromých hodin s domácím úkolem a 10 lekcí konverzačního kurzu v ceně.

Více informací k soukromým lekcím naleznete zde: https://perfect-world.cz/individualni-lekce-ve-skole/
Jak probíhá konverzační kurz se dozvíte zde: https://perfect-world.cz/konverzace-s-rodilym-mluvcim/

Tímto balíčkem ušetříte 4 235,-.

Nabídka platí do 31.12.2023 či do vyprodání určeného počtu kusů.
Participation fee: 16460 Kč
Organizer: Perfect World s.r.o.
Contact the organizer: domi@perfect-world.cz
Free slots: 2
An e-mail confirming your slot booking will arrive shortly.
You will receive your login details about 30 to 15 minutes before the start of the meeting.
After filling out the application, you will be redirected to the paywall.
While processing your personal data, the organizer acts in accordance with these Privacy policies.
This meeting is public but the information about it has not been published - only the participants who were provided with the link to this website can sign up for a slot. This meeting has not been listed in the Other Public Meetings list.