Pediatrie koček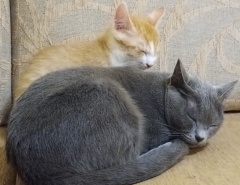 Pediatrie koček
Presenter: MVDr. Mgr. Kateřina Návojová Horáčková, MANZCVS (Feline Medicine), ISFM AdvCertFB
Meeting description: Pokračování webináře Neonatologie koček se zaměřením na koťata od 4 týdnů věku.
Fee: 605 Kč
Organizer: Česká asociace felinní medicíny
Contact the organizer: info@cafmed.cz
After filling out the application, you will be redirected to the paywall.
While processing your personal data, the organizer acts in accordance with these Privacy policies.